GOROF CEMETERY MONUMENTAL INSCRIPTIONS
First published in book form in 2007 but recently updated and produced for the first time in cd format, our new cd comprises
of the monumental inscription of Gorof Public Cemetery in Ystradgynlais. The cemetery was opened in 1922 as the church cemetery was becoming full.
This cd comprises of a description of the gravestone or monument, an inscriptions of each gravestone, and a photograph of it.
Some of the graves were unmarked so we have consulted the Ystradgynlais Town Council burial registerto find out who is in each unmarked grave.
Also included on the cd is a master index by surname of both the burials and the cremations. The cd is available at £15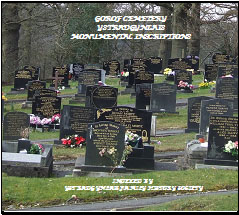 to order contact
updated September 2012