LLAIS NEWSPAPER
In April 2007 our Society successfully was awarded a Heritage Lottery Grant to have the local newspaper put on to microfilm. This meant that for the first time a complete run of the newspaper which started in 1898 and ended in 1971 could be seen in one place. We now hold all the films from 1898 - 1971 (1937 & 38) these are avaiable at Ystradgynlais Library. Due to the anticipated demand for the latter films it is advisable that you book a time slot in order to make sure that the machine is available.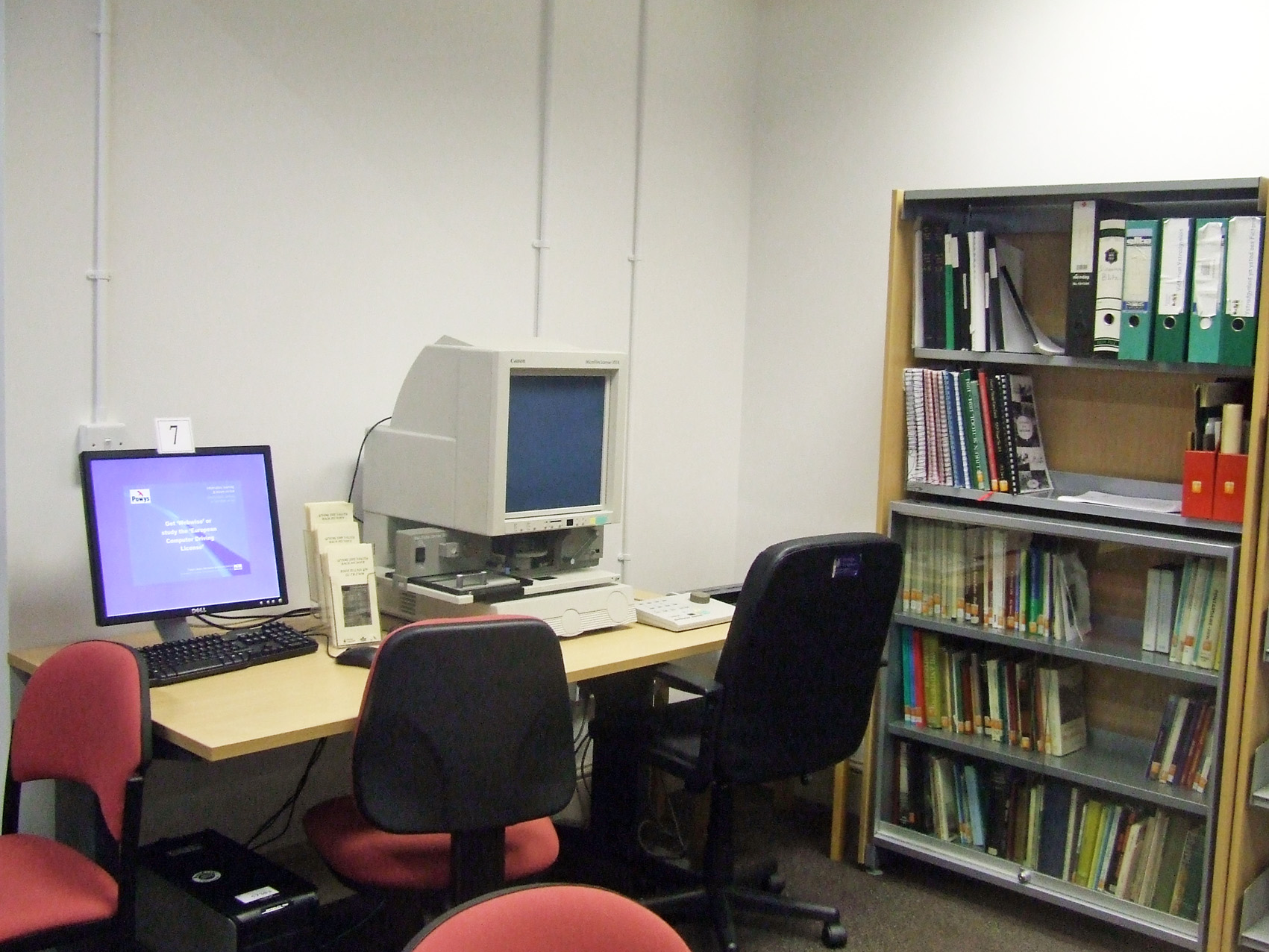 Further details about accessing the facility can be found at
For those who are unable to use the facility we can offer a postal service for articles we have an index for the births/marraiges/deaths and funerals from 1898 - 197, we can do look ups for these years, for other articles a date must be known as these are not indexed

Cost £1.50 per article - an A4 print out of the page will be supplied along with a second A4 copy of the enlarged article. In other words you will get two A4 copies.
and can be sent via post to the UK (postage included) - overseas rates vary or as a pdf document via email
For further details contact the Society Secretary

AN INDEX OF
BIRTHS, MARRIAGES
DEATHS AND FUNERALS
LLAIS NEWSPAPER
When the Llais newspaper was first published it was more of a political paper rather than a place of local gossip.
Therefore in the early years there are very few local births, marriages, deaths and funerals reported.
CDs 1-7 are now available
The cd's are an index of births, marriages, death and funerals taken from the Llais Newspaper
This will then enable you to find the date of the newspaper in which the article appears.

Information on the index
BIRTHS
Newspaper edition date, name and surname of child (if given), date and place of birth and parents names, addresses and details
MARRIAGES
There are two entries for each marriage, one for each person.
Newspaper edition date, surname and name, date of marriage, place of marriage, spouse, parents names and address.
DEATHS
Newspaper edition, surname and name of deceased, date of death, address of deceased, burial location, misc. information.
FUNERALS
Newspaper edition, surname and name of deceased, age, address of deceased, date and place of funeral and a list of mourners (if given)
MASTER INDEX
An index of the names and surnames from the above indexes, the date of the newspaper and the type of event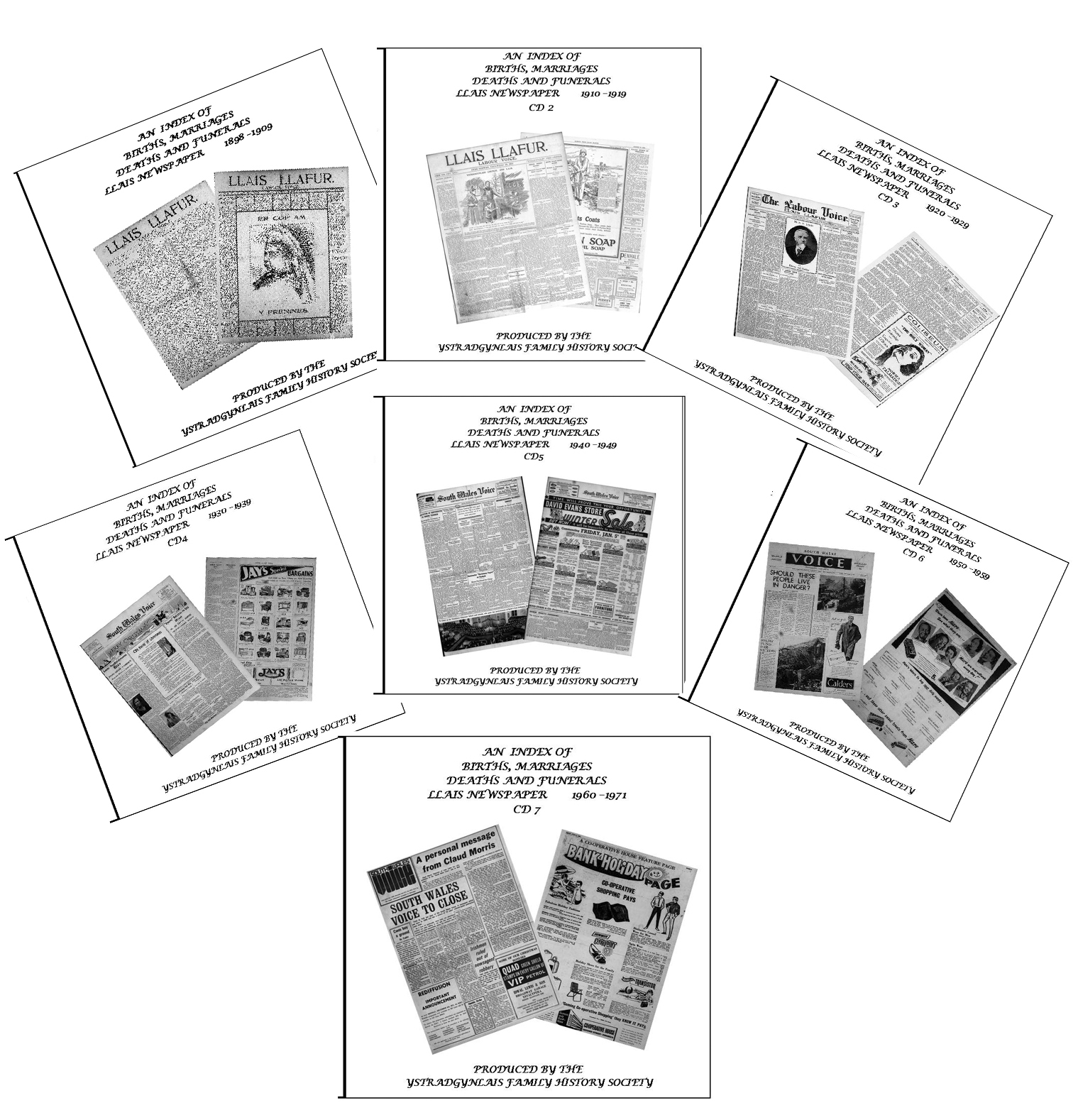 CD 1 £10
CD 2-7 £15 each
If buying complete set £90 - saving of £10
please email
IN MEMORIUM CD
By 1922 the fashion was to remember the death of loved ones by placing a advert in the 'In memoriam' column of the newspaper. Although the newspaper often reported the death of the person at the time this column almost always noted the date of death which was often left out of the initial death report This cd is an index persons who were noted in the 'In Memoriam column. The information noted is the name, address, date of death and any other misc information. This information has been sorted into 3 different indexes
* Indexed by surname
* Indexed by date
* Indexed by address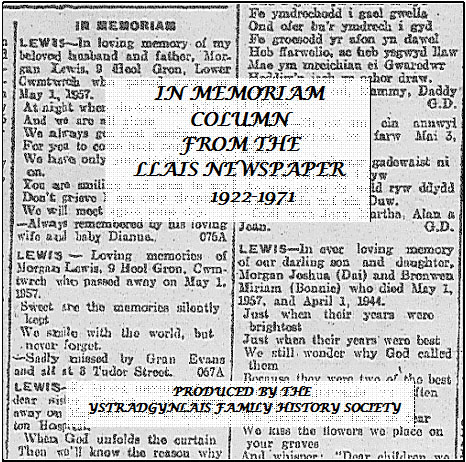 Price £15
Ystradgynlais Family History Society