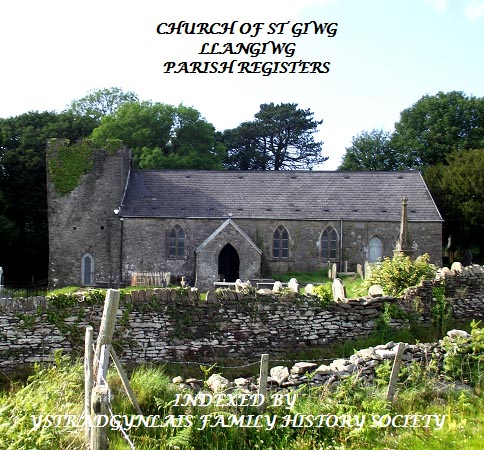 PARISH REGISTERS OF LLANGWIG CHURCH
Llangiwg Church is named after Ciwg the Confessor, a 6th Century saint who introduced Christianity into the area between AD 542 and 568 and is of Celtic origin. The church building standing today was rebuilt substantially in 1812 but there are remains of the earlier Norman church on the site and part of the tower is Norman, dating back to the 13th century.
We have endeavoured to transcribe all of the registers, but unfortunately the last baptism book is missing, it has not been deposited at any archives or with the Diocese and therefore the last date for baptisms is 1913. Also some of the earlier registers are missing but we have reverted back to the Bishop's Transcripts. Records are noted in date order are they appear in the register. As there are sometimes several ways of spelling the same surname it makes it slightly easier to put the families together. The early registers are very difficult to read and portion of pages are missing and therefore there are a lot of ?s in the early transcripts.
Also included on this cd is a master index, indexed by surname covering all events.
Dates covered are
Baptisms 1677 - 1913
Marriages 1677 - 1979
Burials 1677 - 2004
PRICE £15
To order email