List of the Society's Services
PDF Sent via email
Tithe Maps - Map and Apportionments £3 per place / farm

Census
1841 - 1911 - original copy supplied £1

St Cynog's Parish register £1
Photocopies from christening/marriages/burials register
Christening 1712-1969
Marriages 1712-1951
Burials 1712-1957

Local graveyards monumental inscriptions
£1 per grave
<![if !supportLineBreakNewLine]>
<![endif]>
Llais Newspaper extract £1 per copy but approx date of event must be given
FRIDGE MAGNETS, COASTERS & KEYRINGS
Our new range of products includes fridge magnets and coasters of local churches, chapels and views.
They make an ideal present or a reminder of where your relatives lived and worshipped.
The magnets come in two sizes large 9.5cms x 6.5cms (picture size 9cm x 6cms) and small 5cms x 7.5cms (picture size 4.5cms x 7cms).
The keyrings are double sided and you can have two different views, one each side for example you could have Yorath old and new
The coasters measure 9cms x 9cms
They are made of strong clear acrylic.
Prices are
Large Magnet £2
Small Magnet £1.50
Coasters £2.50
Keyrings £1.50
Please add 75p for postage & packing per order.
Pictures available are
CHAPELS & CHURCHES

Ystradgynlais area
St Cynog's old Church
St Cynog's Church
Ainon Chapel
Gurnos Chapel
Moriah Chapel Penrhos
Sacred Heart R C Church
Sardis Chapel
Sardis Chapel (1961)
Saron Chapel
Tabernacle Chapel
Tabernacle Chapel (old)
Yorath Chapel
Yorath Chapel (old)
All Cwmtwrch Chapels

Upper Swansea Valley
Abercrave Church - old & new
Carmel Chapel Abercrave
Callwen Church
Coelbren Church
Nantyffin
Tyn y Coed Chapel

Lower Swansea Valley
Llanguicke Church
St David's Church Ystalyfera - old & new
Holy Trinity Ystalyfera

Views
Brecon Rd 1920s
Commercial St 1905
Commercial St 1910 (3 views)
Commercial St 1928
Craig Y Nos
Craig Y Nos 1908
Jeffreys Hill 1920s
Teddy bear bridge 1930s
Water St 1911
Yniscedwyn Arms 1910
Yniscedwyn Iron Works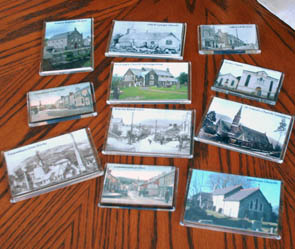 Coasters
These clear acrylic coasters measure 10cm x 10cm (picture size 9cms x 9cms)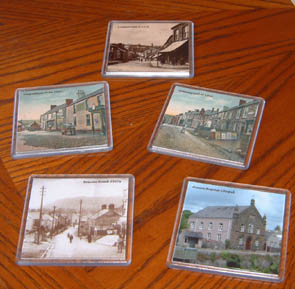 Various methods of payment available please contact us on the address below for further details.
Updated October 2019