TYNYCOED CHAPEL PENYCAE
MEMORIAL INSCRIPTIONS CD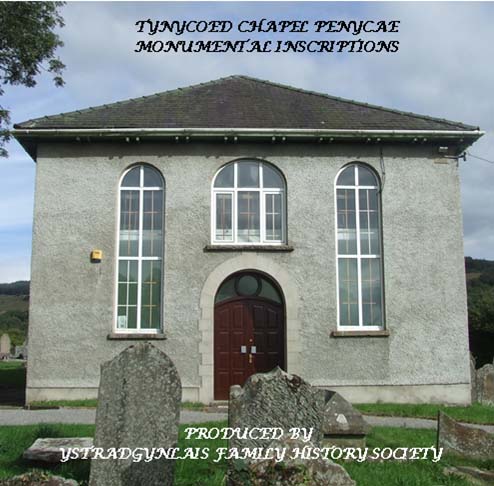 It was estimated that in 1762 over 40 members worshipped in a small holding called Ty'n y pant near Penwyllt
so it was decided to build a chapel dedicated to the cause and so Tynycoed Chapel was first built in 1774.
Finding itself a victim of its own success and a newer and bigger building had to be built
and the 'new' chapel, which is the chapel which stands today was opened in July 1829.
With over 2,500 people mentioned this is a valueable piece of history of the independent cause in the Upper Tawe Valley.
The graveyard was split into 3 different areas to make it easier for the researcher to find the grave required easier.
Each gravestone entry includes a description of the type of memorial, full inscription wording (where decipherable) and a photograph
Also included is a map of the graveyard and a master index listing all the names on the memorials.
Price £15.00
To purchase a copy please email for details