Ystradgynlais
Up until the mid 18th century most of the Swansea valley was thickly wooded and sparsely populated.
In the 1600's there were only a couple of houses by the church and a pub (now the rectory). In 1801 there were only 993 residents in Ystradgynlais living in only 196 houses. The first documented written evidence of iron working in the area was at Ynyscedwyn and is of a deed of release dated 1729. By 1750 there were only 7 furnaces in south Wales, one of which was at Ynyscedwyn.
The first written evidence of coal workings in the area was in 1780 in Wauclawdd. Most of the coal dug up in the area was sent to the blast furnaces of the iron works.
By 1790 the full extent of the mineral resources in the valley were known and it was realised that to exploit these to the full transport would have to be essential. A bill was passed in 1793, which allowed the construction of the Swansea valley canal. This means of transport remained the only mode of transport for 60 years.
The greatest increase in population was from 1821-41 which co insides with the coming of George Crane and the development of the Ynyscedwyn iron works. By 1870 however the industrial development was in decline due to the various economical factors.
Although coal mining carried on in the area a few light ones have replaced the heavy industries.

Today the population stands around 12,000
Commercial Street 1908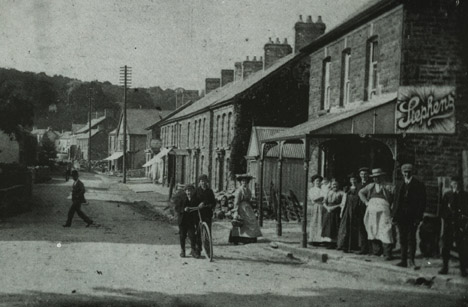 Updated September 2019