The Parish of Ystradgynlais
It is generally believed that there has been a church in Ystradgynlais since the 5/6th century.
The picture on the left is of the church, which dates back to the 13-14th century.
 The church is dedicated to St Cynog who was the eldest son of Brychan of Brycheiniog.
By 1856 the old parish church had become too small. The population of Ystradgynlais had nearly quadrupled from 1821-1841 from 1181 to 4346 people due to the industrialisation of the area. By June 12th 1861 the new parish church, on the right, was finished and it opened for its first service on Wednesday 12th June 1861 but it was not officially consecrated until December of that year.
The church's new features included short cast iron pillars supporting the arcading along the side aisles and it is most probable but unproven that these pillars were made at the Ynyscedwyn ironworks.The most famous wedding to have taken place in the church was the wedding of Madam Adeline Patti of Craig y Nos, the famous opera singer to Count Ernest Nicolini on the 10th of June 1886. Note that Madam Patti was noted as a spinster but was in fact separated from her first husband a fact the rector turned a 'blind eye' to.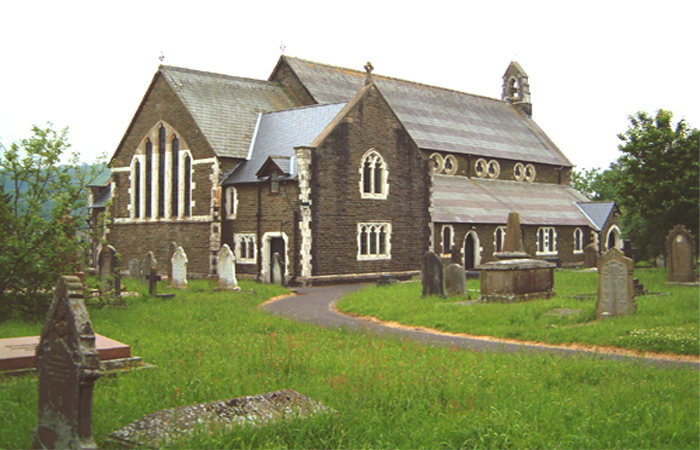 Madam Patti had promised to fund the building of a bell tower for the newly built church but due to a 'falling out' with the rector the offer was withdrawn.Copies of the parish registers are complete from 1712 and can be found in the Parish Church, West Glamorgan archives, and Ystradgynlais Library.
Updated September 2019